Today, Monday 6th of September is a national holiday in US. There are no classes, banks and offices are closed, and students are enjoying the last minutes of the holiday season. We had girls' PJ party in our room last
night, and I came to know most of the good friends of my roommates.
Another thing I found here is that people study hard, and they play hard. Once they start studying, which has already occured in my apartment,
they do almost everything they have to do. No neglection in the reading
assignments, no compromise in preparation.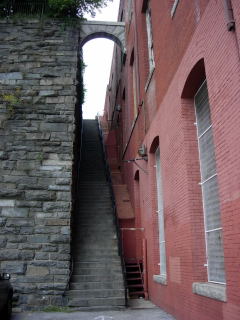 By the way, have you seen the film "Exorcist"? I haven't, but I am living right across the staircase they used in the film. It is realy steep and
long. Every time I go down there to go to M Street or Potomac River
side, my hand grasping the handrail sweats, and I go down the stone
steps one by one. One interesting
thing is that the movie theater in
Georgetown have this more-than-
30-year-old film on screen in
September and October every year.
I think I must see it once before
the Halloween. I don't like horror
movies much, but let me compare
"Exorcist" with "The Hounted" which was the first film I saw in Cambridge
with my friend (do you remember that, dear? ), "Sleepy Hollows", "The
Final Destination", and "Ring", the Japanese version, which I saw only
one time.