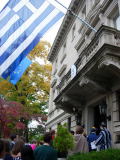 G-town is now full of witches, goblins, bunnies, mice, monks, princesses with masks and so forth! Today all of those people rallied to the Embassy Row on Massachusetts Ave. where there are bunch of emabssies from all over the world in one street in DC! It was for G-town students to do trick or treat at those offices today. The doors of embassies were open to us and we got our candies.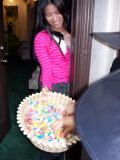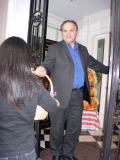 Countries like Korea, Marshall Islands, Mexico, Burgaria treated us so well. Embassy of Japan wasn't even opened to us. Hey you guys, show that you understand the sense of humour and be nice to us! That's the best diplomacy you can do to those would-be diplomats in the future, isn't it?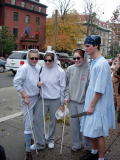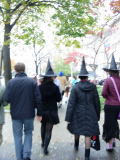 I wasn't prepared for the costume today, cuz I joined them straight after my class. I should do something and get ready for the weekend. People don't necessarily buy ready-made staffs, they use their creativity and skills for the costume.