I went out with my roommates to skate at the
Sculpture Garden near the Smithonian. It was my first time skating. I slipped over so many times that I hit my hands on the ice and they are now purple and soring. But it was so much fun! First my roommates pulled me hands by hands, while I stayed just standing. "Always lean forward! Bend your knees!" This was the advice from Susan. "Do not touch the bar." said I-Fang. Both can skate so gracefully that they can easily follow the stream of skaters.
After more than 10 Shiri-mochi, I gradually learned to slowly move on off the bar. Right-Left-Right- Look forward!
There were little kids skating with their parents, couples side by side, some people were skating even backwards! Also there was this cute little girl dressed up like a pro figure skater, and she can do anything on the ice! Spins, sliding on one foot, backward.
In the evening I went to the New Year's Party for the ICU Alumni who are working in DC. I met people old and young... I was the youngest. There were two Yearbook people who are now working in the World Bank! (Some of my readers... D-san, TM-san might know them.) It was such a co-incidence. We went to drink afterwards, and it was so much fun full of laughter and of advice.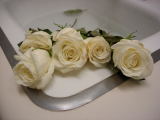 「将来のキャリアがどうなるかとか考えるんじゃなくて、目の前に来たチャンスを必死に追うほうが私はうまく行くと思うよ。自分がエキサイティングだと思うことを、本気になって取り組めばチャンスは必ず回ってくるよ。」
I will have a good sleep after such a long and fruitful day.